Maybe some of you have heard of the "gig economy" and the "gig worker," while others may be wondering if this is some computer storage solution. Once associated with musicians that played "gigs," today's gig economy is a rapidly growing segment of the worldwide labor market and online recruitment that often encompasses freelancers.
Modern Technology Fuels Gigs
Fueled by modern technology, many employees can now work remotely without having to show up at a traditional job site. 
Gig employment may include:
Driving for Uber or Lyft
Selling products or merchandise on eBay or Etsy
Working as a freelance web designer, writer, developer or even musician
Work for pay apps, such as TaskRabbit
Selling products such as Mary Kay or Pampered Chef 
Renting space in your home with Airbnb
Bloggers
Any task-based jobs
In the U.S. alone, nearly 25% of Americans over the age of 18 earn some form of income by working a gig. 
How the Gig Economy Works
A gig worker can opt for a certain number of hours or take on projects on a task-based system. Once the project is complete, they move on to work another gig. It might be another position or task within the same company, or it might be an entirely different company.
The shifts or projects that gig workers take on are flexible and very much unlike a traditional 9-to-5 job. Some people work side gigs after their full-time jobs, while other people work several gigs to make a full-time income. Usually, there are no set hours that define a gig worker's schedule. Some opt to have more traditional schedules, while others prefer alternative, flexible scheduling. In all cases, gig workers are not traditional employees, but freelance, independent contractors. 
Online Recruitment for Gig Workers
Many companies are turning to gig workers to fill project-based positions. Whether it's a one-time development project, ongoing social media projects or even copywriting, online recruitment is a popular way to fill non-permanent, part-time jobs in companies.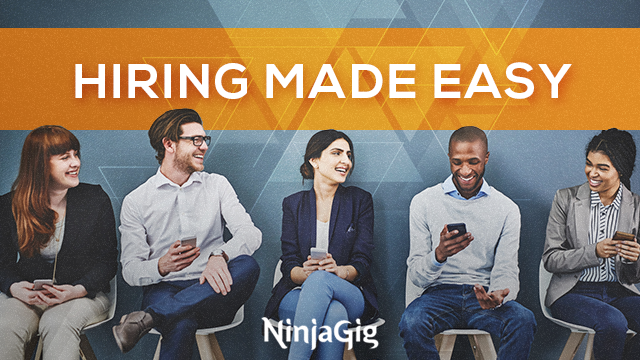 Ninja Gig offers online job application software that makes it easy for companies to use online recruitment to attract gig talent. Easily create and accept job applications online. The automated hiring process and applicant tracking system makes it easy to correspond with and schedule interviews with freelance gig applicants. Sign up today and see how Ninja Gig can help your company attract top-rated freelancers with an online job posting.