All recruiters and HR managers know the pain of online recruiting and that the longer it takes to find qualified candidates, the more money it costs. However, it's not easy to recruit good applicants without the use of expensive, complicated tools. Ninja Gig has some good news for you! We've put together our list of easy-to-use, cost-effective recruiting strategies for 2021.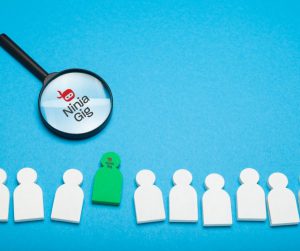 Online Recruiting Strategies and Techniques
Job Description

–

Write a job description that highlights your company's personality and stands out from the crowd. You'll likely get more applicants attracted to your company's culture, making them a better potential long-term fit. 

Employer Brand

– Strengthen your employer brand because if candidates see that you're a great company that treats their employees well, they'll be more engaged and want to apply. 

Candidate Sources

– To obtain a diverse range of candidates, make sure to

post jobs online

on different applications. To avoid all the expensive fees, opt for

Ninja Gig

, which is a $49/month flat-rate, all-inclusive job posting software that automatically posts your jobs to major job application sites, such as Indeed, Zip Recruiter and more.

Collaboration Tools

–

Ninja Gig

also has an advanced

A

pplicant Tracking System

, making it easy for recruiting and HR teams to log in and view applications, track job applicants, provide internal feedback and more.

Demo

our software today!

Passive Candidates

– A passive candidate is one that  wants to work for your company, but they may not know it yet. They usually have a job they're satisfied with, but you can browse professional sites and networks and look at their portfolios and resumes and recruit them.
Social Media Brand Building

– Social media is an excellent tool to help companies build their employer brand. Whether you're making fun employee videos or linking to insightful articles, social media lets you create a brand that attracts talented employees.

Nurturing Passive Candidates

– Remember, passive candidates just don't know that they

want

to work for your company, so you may have to nurture them along the way. Post engaging content that links to your company, and make sure to post all upcoming jobs on your website and social media platforms.

Ninja Gig

makes it easy to post a custom link for job applications.

Hence, applicants' data automatically feeds into the robust

hiring

Applicant Tracking System

, saving your team time and money.

Encourage Employees to Share Job Openings

–

Encourage your current employees to share job openings and o

nline job postings

on their social media pages. Remember, people trust those they know, and if they know someone that works in a company, they are more apt to apply. 

Online Reviews

– Applicants research companies, because let's face it. No one wants to work for a company with less than glowing reviews. Encourage current employees to share their experiences with your company online, whether it's through Glassdoor, Indeed or other job posting sites.

Design Ads

– If you're posting jobs online on social media platforms, avoid the typical boring text and opt for something that grabs attention, such as a custom design graphic and fun, engaging text.
Other Online Recruitment Tools for Sourcing Candidates
LinkedIn

– LinkedIn is a great professional network to search for passive job candidates. 

Social Media Groups

– Browse social media groups and post links to jobs on social sites, which can help passive candidates take notice of your company. 
Hiring Selection Tools
Applicant Tracking System

–

Ninja Gig's

Applicant Tracking System

lets your team evaluate candidates and

track job applicants

quickly and efficiently, decreasing the length of time spent on the candidate selection process. 

Video Interviews

– In today's pandemic-related age, it's best to use free video interview tools, such as

Zoom

,

Skype

or

Google Hangouts

, to streamline the interview process.

Learning Tools

– Reimagine training and use online resources to help create learning tools for new hires. Remember, the onboarding process should be as smooth as possible.

Candidate Satisfaction

– Learn more about your company's recruitment process by sending out online surveys through

Google Forms

or

Survey Monkey

to candidates. 
Online Recruitment Skills Testing Tools
Vet Candidates

– Hiring for a job that requires technical knowledge and expertise? Try using a skill-testing site, such as

Interview Mocha

or

eSkill

, which can test candidates before you even spend the time reviewing their resumes. 

Challenges

– Need to engage with talented programmers? Try sites, such as

HackerRank

, that use built-in sourcing tools so you can sponsor a contest or challenge to engage with qualified programmers. 
Ninja Gig's Applicant Tracking System and job application software is a flat-rate of $49 a month. Our all-inclusive software offers unlimited applications and has NO hidden fees, unlike the competition. Sign up today for your exclusive 14-day FREE trial and experience the power of Ninja Gig.