If you've ever been hiring for a job, you know that it's not uncommon to receive dozens of applicants and resumes. Sifting through this information is tedious, time-consuming and often frustrating. Ninja Gig explores how online recruitment software can help benefit your business now and going into 2021.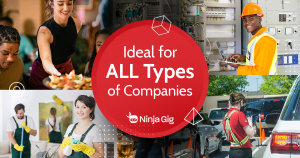 Portability

–

Unlike traditional recruitment processes that confined people to their desks and printers, today's online recruitment software is in the cloud, which means that recruiters and HR managers can access applications from their mobile devices or even while working from home. See what candidates are applying to your company 24/7.

Expanded Social Reach

–

Social networks are a critical component in online recruitment. Online recruitment software provides links that allow you to connect them to Facebook and Twitter, enabling you to expand your social reach further. 

Reduces Time-Consuming Details

–

Traditional recruiting involves a lot of paperwork and forms. Today's online software makes it easy for applicants to complete applications online, upload resumes and even cover letters.

Efficient

–

All companies are looking for ways to improve efficiency. Online recruitment depends on communicating effectively and promptly with the company's team and potential candidates. Online HR recruitment software offers easy tools to communicate directly with candidates, respond to emails and even rate applicants based on their applications and resumes.

Data Collection

–

Easily collect various information about applicants, such as optional EEO information, candidates' responses to questions, resumes, cover letters and more. Online software makes it easy to determine what candidates follow instructions, allowing you to sort applicants quickly. 

Find Better Candidates

–

Sort candidates by those with the required experience and find the exact candidates you're looking for with minimal effort. 

Improve Sourcing Strategies

–

Maybe your company is consistently recruiting the wrong type of people and is thereby plagued with turnover. If you start using online recruitment software, you can begin analyzing where you're falling short to avoid these pitfalls in the future.

Automated Recruitment Process

– When you focus on automated recruitment, you eliminate the need for manual recruitment, which allows you to focus on creating a better shortlist of applicants and spending more time on in-depth interviews. 
Read more about the advantages of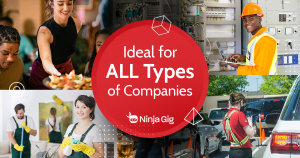 online recruiting.
If your company needs online HR recruitment software, look no further than Ninja Gig's affordable, flat-rate, all-inclusive $49 a month plan. Not only will you save thousands of dollars over other types of online recruitment software, but you can also easily track candidates using the Applicant Tracking System, retain all HR required applications and resumes, rate candidates and respond within the easy-to-use Ninja Gig platform. Are you interested in learning more about how Ninja Gig can benefit your company? Sign up today for our absolutely 100% free trial and experience the power of Ninja Gig.